What Can We Help You Wrap?
Vehicle Vinyl Wrapping Services



Dive into a world where innovation meets impeccable design at Car Wrap Studios, the premier destination for vinyl car wraps in Dallas. Our vinyl wraps aren't just about giving your vehicle a new look; it's about crafting an experience, exuding personal style, and ensuring superior protection for your prized possession. With precision, dedication, and a touch of artistry, we bring your vision to life, transforming your vehicle into a unique masterpiece that stands out on the Dallas roads. Every wrap is curated with the highest quality materials, ensuring a flawless finish that lasts, guaranteeing that when you think of exceptional car wraps, you think of Car Wrap Studios.
Dallas's Best Kept Automotive Secret is Out! Car Wrap Studios has redefined what it means to wrap your car in style. Whether you're looking for a sleek matte finish, a glossy shimmer, or a custom graphic design, our team of skilled professionals promises perfection down to the last detail. We pride ourselves on utilizing state-of-the-art techniques combined with unparalleled craftsmanship. The Dallas streets have never seen cars this vibrant, this polished, and this exceptional. For those who refuse to settle and demand nothing but the best for their cars – Car Wrap Studios is your destination. When passion meets vinyl, extraordinary happens. See it for yourself and drive the transformation today!
Elevate Your Truck's Presence with Car Wrap Studios! In the heart of Dallas, Car Wrap Studios stands as the pinnacle of truck wrap excellence. Our commitment goes beyond simple aesthetics; we encapsulate the true essence of what it means to personalize and protect your truck. With our unparalleled expertise in vinyl wrapping, we transform the ordinary into extraordinary, making sure your truck not only turns heads on Dallas streets but also resonates with sheer quality. Using only the finest materials and cutting-edge techniques, Car Wrap Studios ensures your truck showcases a distinctive look paired with lasting durability. When you think of superior truck wraps in Dallas, let Car Wrap Studios be your first and only stop.
Where Dallas Meets Distinction - Car Wrap Studios! Every truck has a story, a personality, a spirit. At Car Wrap Studios, we believe in amplifying that spirit, taking it to a level where it becomes an emblem of your uniqueness. Whether you're drawn to a bold metallic hue, the understated elegance of satin, or a tailor-made design, our team delivers precision, perfection, and unparalleled artistry. As Dallas's leading truck wrap specialists, our promise is not just a wrap, but an experience – an embodiment of luxury and style. If you're seeking the epitome of truck transformation, look no further. Dive into the world of Car Wrap Studios and redefine your journey on the Dallas roads.
Unleash Your Commercial Vehicle's Potential with Car Wrap Studios! In the sprawling metropolis of Dallas, where commercial vehicles abound, stand out from the crowd with the superior craftsmanship of Car Wrap Studios. Elevate the appearance and protection of your commercial vehicle, turning it from merely functional to truly phenomenal. Our meticulous attention to detail ensures each wrap is a testament to quality, reflecting the professionalism your business stands for. In a city as dynamic as Dallas, trust Car Wrap Studios to provide your commercial vehicles with wraps that are durable, stylish, and second to none. When quality matters and settling for ordinary isn't an option, Car Wrap Studios is the name to remember.
Redefining Commercial Vehicle Aesthetics in Dallas - Car Wrap Studios! Your commercial vehicle isn't just a mode of transport; it's a representation of your brand's commitment to excellence. At Car Wrap Studios, we resonate with that commitment. Specializing in commercial vehicle wraps, we understand the importance of marrying form and function. With our unmatched expertise, state-of-the-art materials, and the passion to create masterpieces, every commercial vehicle we touch transforms into a symbol of class and durability. For businesses in Dallas seeking that extra edge in aesthetics and protection for their commercial vehicles, Car Wrap Studios is the go-to destination. Dive into a realm where innovation meets impeccable craftsmanship, and let your commercial vehicle do the talking.
Elevate Your Road Adventures with Car Wrap Studios! Journey through Dallas and beyond with a touch of bespoke elegance, courtesy of Car Wrap Studios, the unparalleled maestros of RV wraps. Your recreational vehicle is not just a mode of travel—it's a statement of your passion for exploration, and we believe it deserves a look as unique as your adventures. Delve into a world where unmatched precision, top-grade materials, and visionary design converge, ensuring that your RV isn't just road-ready, but also a showstopper. For those seeking a harmonious blend of style and durability for their RVs in Dallas, Car Wrap Studios promises a transformation that resonates with quality and uniqueness.
Craftsmanship Meets the Open Road at Car Wrap Studios! Dallas is a city of distinction, and when its residents hit the open road, their RVs should reflect nothing less. At Car Wrap Studios, we redefine the art of RV wrapping, infusing each project with meticulous care and unparalleled skill. Whether it's the shimmer of gloss, the sophistication of matte, or a custom design tailored to your vision, our team brings to life wraps that are both functional and fabulous. Dallas's RV enthusiasts deserve the best, and Car Wrap Studios is committed to delivering exceptional results, every time. Embark on your next adventure with confidence and style, and let your RV be the envy of every journey.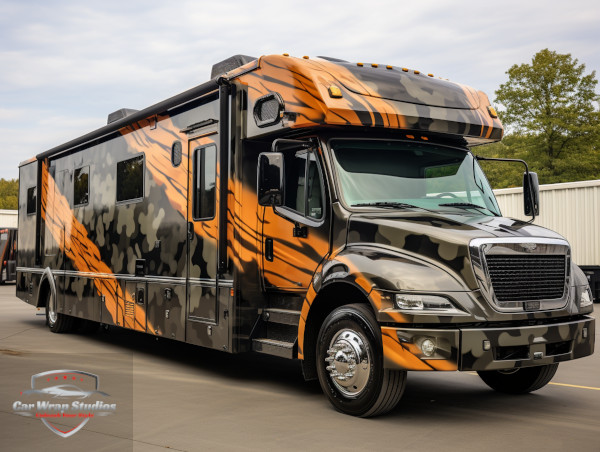 Sail Dallas Waters in Unrivaled Style with Car Wrap Studios! Every boat has its own rhythm, a pulse that resonates with the waves it treads. At Car Wrap Studios, we understand the essence of your marine companion and offer boat wraps that amplify its spirit. Let your vessel become a beacon of unparalleled design and quality on the Dallas waters. Using cutting-edge techniques and the finest materials, our boat wraps not only enhance aesthetics but also provide an additional layer of protection against the elements. When it comes to combining artistry with durability in boat wraps, Dallas boat enthusiasts know that Car Wrap Studios is the name that stands above the rest.
Transforming the Marine Experience in Dallas - Car Wrap Studios! The waterways of Dallas have seen many boats, but with a touch from Car Wrap Studios, yours will be the one remembered. Every curve, every line, every hue is crafted with precision, ensuring your boat is not just seen, but admired. Our team of professionals is driven by passion and expertise, ensuring that every wrap reflects the pinnacle of craftsmanship. Whether it's the glossy allure of metallics, the sophisticated touch of satin, or a design that captures your essence, we bring your vision to life. For the ultimate blend of style and protection for your boat in Dallas, anchor your trust in Car Wrap Studios. Navigate the waters with pride and distinction.
Conquer the Dallas Streets with Unmatched Flair with Car Wrap Studios! Every roar of the engine, every twist of the throttle, your motorcycle is an extension of your soul. At Car Wrap Studios, we believe in magnifying that spirit with our premier motorcycle wraps. Venture into a realm where your two-wheeled companion gets draped in the finest materials, ensuring it stands out in the Dallas urban jungle. Our motorcycle wraps promise more than just a visual treat; they offer enhanced protection and longevity for your ride. For those who wish to blend thrill with artistry on the streets of Dallas, Car Wrap Studios delivers an unparalleled transformation that echoes precision and panache.
Experience the Revolution in Motorcycle Aesthetics at Car Wrap Studios! Your motorcycle isn't just a ride; it's a reflection of your passion, your adventure, your statement. With Car Wrap Studios at the helm, watch as your motorcycle evolves into a masterpiece of design and detail. Our experts, equipped with advanced techniques and a zeal for perfection, craft wraps that resonate with brilliance and durability. From the sleek allure of matte finishes to the vibrant hues of custom designs, we've got every Dallas rider covered. When the open road calls, ensure your motorcycle is adorned with the best. With Car Wrap Studios, let every ride be a symphony of style and substance.
Dallas Vinyl Trailer Wraps
Elevate Your Haul with Car Wrap Studios in Dallas! Transporting goods across Dallas requires reliability and efficiency, but who said it can't be done in style? At Car Wrap Studios, we specialize in trailer wraps that redefine aesthetics while ensuring durability. Every inch of our wraps exudes professionalism, ensuring that your cargo trailer not only performs its function but also serves as a testament to superior quality. Using only the finest materials and advanced techniques, we bring unparalleled craftsmanship to the forefront of every project. For those in Dallas seeking the perfect marriage of function and form for their trailers, Car Wrap Studios stands as the beacon of excellence.
Trailblazing Trailer Transformation at Car Wrap Studios! In the dynamic landscape of Dallas, where trailers are an essential part of the business hustle, make yours stand out with the signature touch of Car Wrap Studios. Our team of experts is committed to delivering wraps that encapsulate a perfect blend of innovation and durability. Whether you desire the elegance of a matte finish, the gleam of a high-gloss shine, or a design that speaks volumes, we've got you covered. Dallas's business owners know the value of making a lasting impression, and with Car Wrap Studios, your trailer becomes an emblem of class and quality. Navigate the Dallas roads with confidence, and let your trailer be the epitome of excellence.
Revolutionize Your Ride with Car Wrap Studios in Dallas! Every journey, every road trip, every commute becomes a statement when your vehicle wears the craftsmanship of Car Wrap Studios. Dallas streets are filled with vehicles, but only a select few carry the mark of unparalleled elegance and distinction that our wraps offer. Dive into a world where top-tier materials meet artistry, where your vehicle becomes a canvas that reflects both quality and personal style. Dallas residents seeking the best in vehicle transformation need look no further; Car Wrap Studios is the epitome of excellence in the world of vehicle wraps.
Drive Dallas in Distinction with Car Wrap Studios! In a city as vibrant and dynamic as Dallas, your vehicle should be more than just a mode of transportation—it should be a reflection of your impeccable taste. At Car Wrap Studios, we take vehicle wrapping to the next level, ensuring each wrap is a harmonious blend of durability and design. Whether you're seeking the sleek sophistication of a matte finish, the radiant glow of a glossy hue, or a custom design tailored to your vision, our experts craft with precision and passion. When you cruise the Dallas roads, make every glance your way an admiring one. Entrust your vehicle to Car Wrap Studios and redefine what it means to drive in style.
Elevate Your Course Game with Car Wrap Studios in Dallas! Golf carts in Dallas aren't just about leisurely rides across the greens; they're about making a statement of style and sophistication. At Car Wrap Studios, we transform the ordinary golf cart into a testament of personal flair and top-tier quality. As Dallas's premier destination for golf cart wraps, we pride ourselves on precision, using only the best materials to ensure your cart not only looks exceptional but is protected against the elements. Whether you're cruising the golf course or your private estate, let Car Wrap Studios ensure every ride is a reflection of unparalleled elegance.
Drive the Dallas Greens in Unrivaled Splendor with Car Wrap Studios! In the heart of Dallas, where golfing is more than just a sport, your cart should stand out in the vast sea of the ordinary. At Car Wrap Studios, we breathe new life into golf carts, marrying contemporary design with lasting durability. Be it the understated luxury of a matte finish, the glossy sheen that captures the Texan sun, or a custom design that's uniquely you, our wraps promise perfection. Golf enthusiasts of Dallas know that for a touch of class and distinction on their carts, Car Wrap Studios is the go-to name. Embrace the game and ride in style; let your golf cart be the talk of the course.
Unleash the Power of Presence with Car Wrap Studios in Dallas! In the throbbing heart of Dallas, where every road is a battleground of style and substance, ensure your van stands head and shoulders above the rest. At Car Wrap Studios, we infuse every van wrap with a rugged elegance, transforming it into a commanding force on the road. Built for the discerning man who demands both durability and unmatched design, our wraps use top-tier materials crafted with masculine precision. For those who refuse to blend into the background and crave the raw essence of Dallas's strength, Car Wrap Studios delivers van wraps that are nothing short of formidable.
Rule the Dallas Roads with Distinctive Grit and Car Wrap Studios! Your van isn't just a vehicle; it's a reflection of your indomitable spirit, your relentless drive. And in a city as fierce as Dallas, you need a van wrap that's equally uncompromising. At Car Wrap Studios, we bring a fusion of brawn and beauty, creating van wraps that are as tough as they are aesthetically striking. With a keen eye for design and a commitment to enduring quality, we ensure that your van doesn't just pass through Dallas, it owns it. Embrace the rugged sophistication only Car Wrap Studios can offer and redefine what it means to drive with power and purpose.
We Would Love To Help You With Your Next Wrap!
Dallas Car Wraps By Professionals You Can Trust
Welcome to Car Wrap Studios – your premier destination for high-quality car wraps in Dallas!
About Us:
Located in the heart of Dallas, Car Wrap Studios is a fusion of creativity, technology, and unparalleled craftsmanship. We specialize in transforming your vehicle into a mobile masterpiece. Whether you're looking to advertise your business, change your car's color, or just want a unique, head-turning design, we have the skills and experience to bring your vision to life.
Why Choose Car Wrap Studios?
Expertise: With years of experience under our belts, we have perfected the art of car wrapping. Our professional team is trained in the latest techniques and always updated with the newest trends.
Quality Materials: We understand that the longevity and finish of your wrap depend on the materials used. That's why we only use premium quality vinyl from top-tier brands, ensuring that your wrap not only looks great but lasts for years.
Custom Designs: Our in-house design team works with you to create a wrap that is tailored to your tastes and needs. No design is too intricate or too simple for us!
Competitive Pricing: High quality doesn't always have to come with a high price tag. At Car Wrap Studios, we provide premium services at competitive prices, ensuring you get the best value for your money.
Full-service Experience: From design consultation to installation, we manage every step of the process, making it hassle-free for our clients.
Services Offered:
Full Vehicle Wraps

Partial Wraps

Fleet Wraps for Businesses

Custom Graphic Design

Vehicle Branding Solutions

Paint Protection Film
Commitment to Sustainability:
In addition to delivering superior car wraps, we are committed to eco-friendly practices. We strive to reduce waste, use sustainable materials, and follow processes that have minimal environmental impact.
Testimonials:
"I got my food truck wrapped by Car Wrap Studios, and I couldn't be happier. The design is eye-catching, and I've seen an increase in customers since. Highly recommend!" - Juan Rodrigues
"The team at Car Wrap Studios transformed my Tesla into a moving piece of art. Their attention to detail is incredible!" - Jeremy Fisher
Book a Consultation:
Ready to give your vehicle the makeover it deserves? Contact us today for a consultation. Let's turn your vision into reality.
Contact Our Team For A Free Consultation!
Car wrapping involves applying a vinyl film to the exterior of a vehicle, giving it a new color or design. It differs from traditional painting because it is non-permanent, can be removed without damaging the original paint, and offers various customization options.
We offer a wide range of vinyl wrap options, including solid colors, textured finishes, matte, gloss, metallic, and custom designs. You can choose the style that best suits your preferences.
The lifespan of a car wrap depends on several factors, including the quality of the vinyl used, weather conditions, and how well the wrap is maintained. Generally, a high-quality vinyl wrap can last anywhere from 5 to 7 years or more.
We can wrap nearly any vehicle, including cars, trucks, vans, motorcycles, and even boats. However, the size and shape of the vehicle may affect the cost and complexity of the installation.
No, a professionally installed car wrap will not damage your vehicle's original paint. In fact, it can provide an extra layer of protection for your paint, shielding it from minor scratches and UV rays.
The installation time varies depending on the complexity of the design and the size of the vehicle. Typically, it takes between one to five days to complete a car wrap installation.
While it's possible to remove a car wrap yourself, we recommend having it professionally removed to ensure the process is done correctly without causing any damage to the vehicle's paint.
Yes, you can wash your wrapped vehicle just like you would with a painted car. However, it's best to avoid using high-pressure washers or abrasive cleaning materials, as they can potentially damage the wrap.
Yes, we provide warranties on our vinyl wraps, which vary depending on the type of vinyl and the manufacturer. Our team will provide you with all the warranty details during the consultation.
The cost of a car wrap depends on factors such as the size of the vehicle, the type of vinyl used, and the complexity of the design. We offer free consultations and can provide you with a customized quote based on your specific needs.
Providing Dallas Car Wraps, we're redefining the standards of the vehicle wrap industry. Our offerings strike the perfect balance between stunning design and utmost protection for your vehicle. But we don't just stop at wraps; we're on a mission to elevate your vehicle's entire aesthetic while also preserving its original integrity. Our devotion to total customer satisfaction is unwavering. With a team fueled by passion, we're here to serve you. Contact Dallas Car Wraps today and let us revolutionize the appearance and feel of your vehicle.